For those of you who enjoy poetry our Honorary President Mr Joseph Quinlan from New York sponsors the annual Quinlan Family Lecture in poetry.
To view The Tenth Annual Quinlan Family Lecture in Poetry , delivered by Pulitzer Prize Winner Paul Muldoon click here
Dr Burkitt Day Plaque Unveiling Ceremony and Book Launch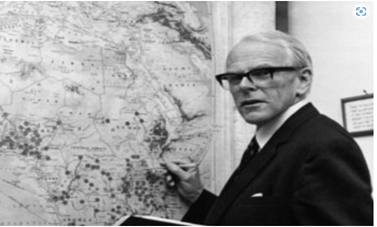 Fermanagh Genealogy Centre held a wonderful event on Saturday 25th June 2022 to commemorate a remarkable humanitarian, Dr Denis Burkitt. The event involved the unveiling of a plaque on the site of his birthplace at Alexandra Terrace, Enniskillen. Dr Burkitt (1911-1993) was a pioneer in medicine being the first to diagnose and treat Burkitt's lymphoma, a rapidly advancing tumour cancer which was particularly rampant in East Africa. He was also known as the 'fibre man' for having made the first link between a lack of fibre diet and diseases resulting from this.
Possessing a strong Christian ethos, Burkitt eschewed top ranking promotions in London hospitals and universities to work with the poorest people in parts of Africa. He was educated at Portora Royal School and Trinity College Dublin and was especially proud of his Enniskillen upbringing where his father was not only the county surveyor but also a world authority and pioneer in ornithology. This hobby of meticulous observation and notetaking was passed on to his son Denis who accompanied him and who himself would leave a vast archive of written material. Recognition was also paid to Dr Burkitt's wife who was 'his rock'.
After Miss Armstrong's introduction, the audience was further captivated by its two guests speakers: Professor Owen Smith from Trinity College Dublin and Dr Burkitt's biographer, Professor John Cummings, the latter having worked with Dr Burkitt over many decades.
It was lovely to have Dr Burkitt's daughter Judy unfurl the plaque, as well as other distinguished guests, some of who travelled long distances to be there. Despite the poor weather which was unseasonably cold and wet, this was a joyous occasion, and very emotional.
Huge praise goes to the principal organiser of this occasion, our own Dave McNulty. Thanks also to Laurie McCusker from Fermanagh Trust for funding the event, assistance from the Old Portora Union, and hosting by the principal, Miss Armstrong and governors of Enniskillen Royal Grammar School, who all made this event run so smoothly.
For more information click here to see the BBC news report.