Talks Programme & Events:
2022
November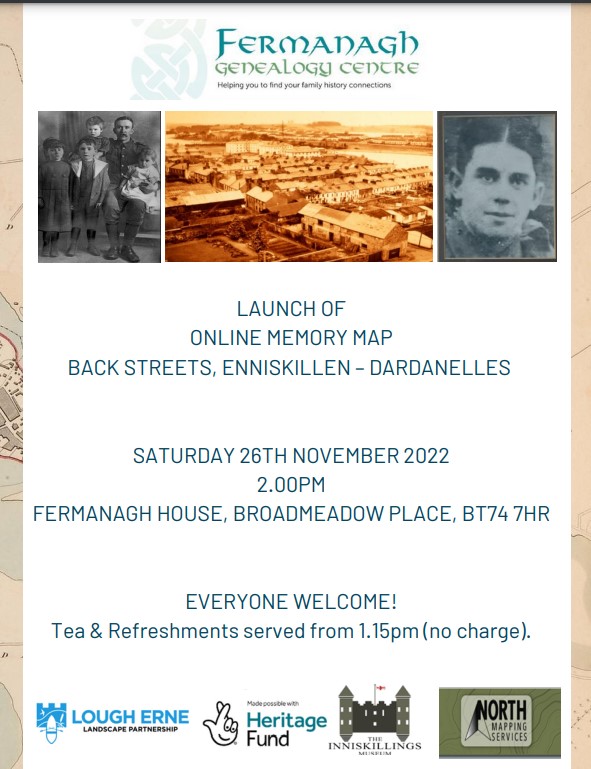 Saturday November 19 th : 'Enniskillen Main Street business owners from 1862-1931.
An illustrated talk with streetscapes and maps' – Gaby Burns.
We are very excited to invite one of Fermanagh's foremost experts on its archaeological past. Gaby comes from a well-known Enniskillen business family and is an expert mapper, genealogist and technological whizz! His talks are very engaging and highly sought after.
December
Saturday December __: Christmas dinner – Time and venue TBA.
2023
January
Saturday January 21 st : Fermanagh Reiving families – Mervyn Hall & Frankie Roofe.
Frankie Roofe is FGC's Chairman and is probably the best known public face when it comes to visitors enquiring about their family origins here in Fermanagh. His years working at the town hall and museum, meeting and greeting visitors, has given him a vast reservoir of knowledge on his beloved county. He again, is a sought after speaker.
Mervyn Hall is a retired History teacher and is Secretary of FGC, of which he is a co-founder. He has given many presentations on a range of Fermanagh related topics. He is a co-editor of Fermanagh Roots Journal and also sends out monthly bulletins to FGC members.

February

Saturday February 18 th : 'The Maguires, Fermanagh's leading family' – Vicky Herbert.
Vicky Herbert is a very well-known local historian in South Fermanagh and is an expert on Lisnaskea's history, having produced a number of publications on her adopted locale. She is very active in the Lisnaskea History Society and has also given tours of areas such as the Crom estate and Aghalurcher, to name a few.

March

Saturday March 25 th : Using military records as a family history source – Case study on
'Fermanagh and the Crimea War 1854-1856.' Mervyn Hall.
Mervyn would admit that his lock-down project brought him down the road of researching Fermanagh's military heritage. Noticing that nothing was written specifically on its role in the Crimea War, he set himself the task of rectifying this gap in our local history. He will publish the names and Fermanagh origins of nearly 300 'Crimea' men at this talk.
April

Saturday April 15 th: Using shipping records, with a focus on Fermanagh – Brian Mitchell.
Brian Mitchell is a name best known in the area of Ireland's, or more specifically Derry's shipping records. Internationally recognised, he has written a number of books, many of which consist of compilations of emigration shipping records – genealogical gold dust! We are very excited to welcome Brian back.
May
Saturday May 20th: AGM + Annual Show and Tell – members exhibit mementos.
AGM & Show and Tell. We trialled this live last year on Zoom and believe it was a great success. This is an annual event and one of our highlights of the year.

June

Saturday June 17 th: Annual Members' trip – Details TBA.
Annual Trip. Members will be informed in the New Year on details relating to this.
2022
January
Saturday January 22nd: 19th century Catholic Church and Registry records in Enniskillen -Seamas Macannaidh.
Available to view in the members section.
February
Saturday February 19th: The Enniskillen workhouse – Catherine Scott
Available to view in the members section.
March
Saturday March 19th: Patronymic Waves. ("How did we get here"?). – Dr Dave McNulty
Available to view in the members section.
April
Saturday April 23rd: Early Irish Christian missionaries with a focus on Fermanagh – Enzo Farinella
May
Saturday May 21st: AGM and Annual Show and Tell
Available to view in the members section.
June
Saturday June 18th Annual Members' trip – T/B/A

September
This talk was rescheduled to Saturday October 1st due to the national period of mourning for our late Queen and will be held at Fermanagh House:
Fermanagh records held in the Public Records Office, Northern Ireland (PRONI) on site and online – Frank McHugh.
Available to view in the members section.
Frank McHugh is a former drama teacher and one of Fermanagh's pre-eminent genealogists. He is a co-founder of Fermanagh Genealogy Centre. Frank has given many presentations across Northern Ireland on Fermanagh/genealogy and is a regular visitor to PRONI. He is also the chief editor of the Fermanagh Roots Journal.
October
Saturday October 15th: Report on 'Dardanelles, Back Streets Memory Map Project'.
Held at Fermanagh House:
'Dardanelles Back-Streets' report. The project group comprises of Mary-Anne Grant, Mervyn Hall, Frank McHugh, Dave McNulty, Jim Quinn and Frankie Roofe. James Bamford of North Mapping Services is our Memory Map online creator. This unique free online project is FGC's biggest project to date and will be placed online in the following months.